Using CALCE SARA and PHM Technology's MADe Softwares to Optimize the Design Process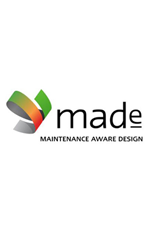 CALCE and PHM Technology have been collaborating in PHM and reliability-science-based life assessment of electronic hardware. PHM Technology is an advanced engineering company developing model-based engineering tools for the design, safety, reliability, and health management of complex systems.

Recently, PHM Technology has introduced systems design process called Maintenance Aware Design (MADe). MADe enables better decisions regarding design, support of safety, and mission critical equipment throughout the product lifecycle. This software helps reduce risks when using independent analysis compatibilities that consider the technical, operational, and economic requirements of the operator and maintainer of a system.

The MADe software can be assisted by using the CALCE Simulation Assisted Reliability Assessment (SARA) software to allows users to assess life expectancy of printed circuit assemblies (PCAs)—a key building block of electronic equipment.

Additionally, CALCE SARA software can be used to support design decisions related to these PCAs.

By combining MADe and CALCE SARA, electronic system providers can achieve the safest, most cost-effective, and most reliable electronic systems.

To learn more about CALCE SARA software, visit the Software page on our website.
Published December 7, 2018