Plasticizers are substances that are added to a material to increase its plasticity, namely, its flexibility and durability. Phthalates are the most commonly used type of plasticizers and are popular due to their relatively low cost, low volatility, and ability to create very elastic materials.  Today, phthalates are the most ubiquitous man-made chemicals found in the environment [
1
]. However, the global proliferation of the phthalate, polyvinyl chloride (PVC) and the numerous products containing PVC, are known to have caused significant health issues.
The name "phthalate" stems from phthalic acid, which refers to three isomers—ortho-isomer or phthalic acid, tere-phthalic acid, and meta-isomer iso-phthalic acid. Phthalic acid esters are commonly used in PVC production, whereas tere-phthalic acid esters are used in the production of bottles for carbonated drinks. Iso-phthalic acid esters are the least common but are nevertheless used to create resins for numerous products, including foods [2].
The most commonly used phthalates are ortho-phthalates and tere-phthalates. Ortho-phthalates, which will subsequently be referred to as just "phthalates", are produced by reacting phthalic anhydride with a range of alcohols such as methanol, ethanol, and tridecyl alcohol [3]. The ortho-phthalates are divided into two main categories: high-molecular-weight (HMW) and low-molecular-weight (LMW) ortho-phthalates [4]. HMW phthalates have 7–13 carbon atoms in the backbone of their structure, whereas LMW phthalates have 3–6 backbone carbons. When these molecules are incorporated into polymers, they reduce interactions between adjacent polymer chains. This serves to increase flexibility in the plastic by significantly lowering the glass-transition temperature [5]. The effect that phthalates have on the flexibility and toughness of polymers makes them ideal, in a mechanical sense, for use in many different applications, including wires and cables, flooring, adhesive films, medical equipment, cosmetics, coated fabrics, roofing membranes, synthetic leathers, and automobile plastics [3].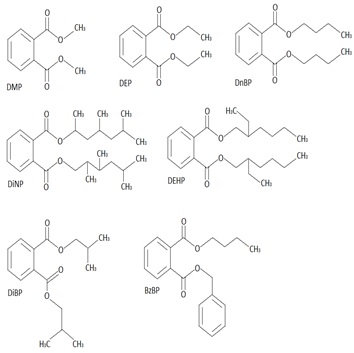 The basic structure of a phthalate is a benzene dicarboxylic acid with two side chains, which can be alkyl, benzyl, phenyl, cycloalkyl, or alkoxy groups. The following figure shows the chemical structure of selected phthalates. The defining characteristics of each phthalate and its decomposition pattern are determined by the length of the dialkyl side chain. If a phthalate is more branched then it has more isomers available and is also more hydrophobic. In other words, it can more easily be integrated into ground water.
HMW ortho-phthalates represent 70% of the plasticizers market, whereas LMW ortho-phthalates comprise about 5% [3]. HMW ortho-phthalates are not yet determined to be endocrine disrupting or carcinogenic, mutagenic, or toxic to reproduction, however, based on studies of rats that show detrimental liver effects, there is reason to be concerned, and there are restrictions on the use of DINP and DIDP for childcare products [3].
LMW ortho-phthalates are classified as dangerous substances by the European Union's REACH (Registration, Evaluation, Authorization and Restriction of Chemicals) regulation. In particular, LMW ortho-phthalates have been found to be damaging to reproductive health [4].
In the electronics industry, plasticized PVC forms the coatings on wires and various plastic parts in electronic devices. Some of the most common phthalates found in PVC applications include DEHP, DBP, DEP, and DiNP. DEHP was historically the most commonly used phthalate for plasticizing PVC, but in 2015 it was banned in most product applications in Europe due to concerns over its endocrine-disrupting potential. It is likely that all the phthalates will eventually be found to be harmful and banned, since they all have the same foundational composition. The following figure shows the synthetic steps of DEHP [47].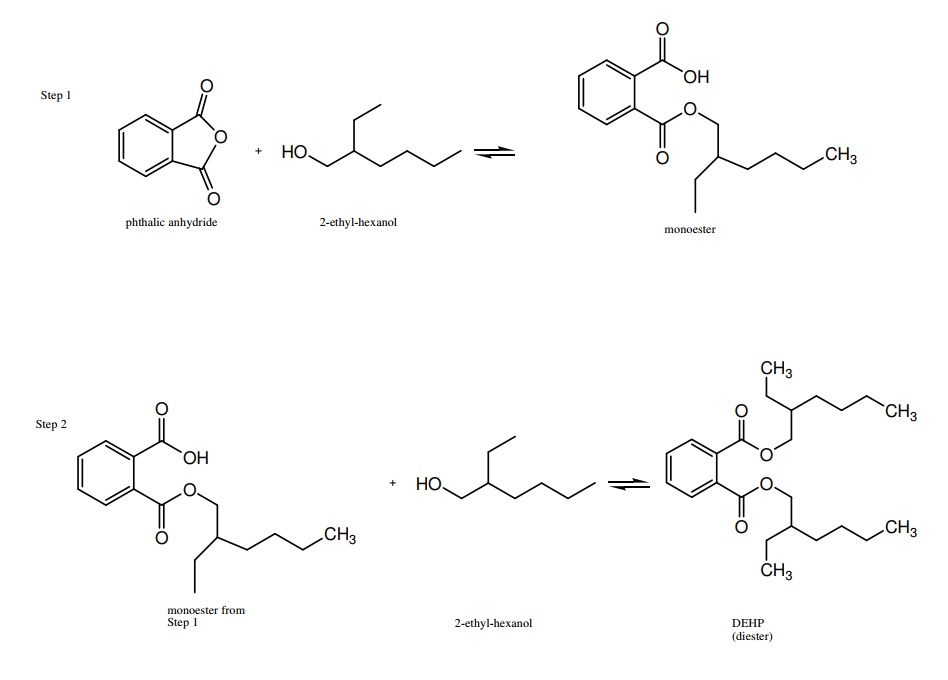 Due to evolving restrictions on phthalates and an increasingly wary public, many electronics companies are seeking replacements for the chemicals traditionally used in their products. Apple has started the Full Material Disclosure program, wherein a company discloses the chemical composition of components used in the manufacturing of their electronics [8]. Before 2013, phthalates were used in Apple's power cords and headphone cables but since then they have been replaced with more environmentally friendly alternatives such as thermoplastic elastomers. Apple's current products are claimed to be free of PVC and phthalates with the exception of those manufactured in South Korea and India where Apple is seeking government approval for replacement materials [8]. Furthermore, while Apple claims to have replaced all PVC and phthalates, they do not specify the exact materials used in the production of their devices.
A 2014 update of the Greenpeace 2007 hazardous materials report [9] presented the steps taken by electronics companies over time to reduce phthalates among other hazardous materials. According to the report, as of 2014, 50% of the mobile device market was completely free of PVC. Compared to mobile phones, less progress was made towards removing hazardous chemicals of concern from laptop computers. In particular, while many companies have reduced the amount of PVC in their computers, other phthalates are being used and charging cables are often still made from PVC.
Common phthalates and their uses in industry [7]
Phthalate

Full Phthalate Name

Function(s)

Product(s)

DEHP

bis-ethyl hexyl phthalate (LMW)

Primarily used as a plasticizer in PVC.

Dolls, shoes, raincoats, clothing, medical devices (plastic tubing and intravenous storage bags), furniture, automobile upholstery, and floor tiles.

DINP

di-isobutyl phthalate (HMW)

Primarily used as a plasticizer in PVC.

Teethers, rattles, balls, spoons, toys, gloves, drinking straws, rubber, adhesives, inks, sealants, paints and lacquers, food and food-related uses, clothes, shoes, and car and public transport interiors.

DBP

di-butyl phthalate (LMW)

Used as a plasticizer for PVC, polyvinyl alcohol (PVA), and rubber. Also used as a solvent and a fixative in paints and cosmetics.

Latex adhesives, sealants, car care products, cosmetics, some inks and dyes, insecticides, food wrapping materials, home furnishings, paint, clothing, and pharmaceutical coating. 

May sometimes be present in toys as an impurity or by-product in trace amounts.

DIDP

di-isobutyl phthalate (LMW)

Primarily used as a plasticizer in PVC.

Electrical cords, artificial leather for car interiors, and PVC flooring.

DnOP

di-n-octyl phthalate (HMW)

Primarily used as a plasticizer in PVC.

Floorings, tarps, pool liners, bottle cap liners, conveyor belts, and garden hoses.

BBP

benzyl butyl phthalate (LMW)

Used as a plasticizer for PVC, polyurethane, polysulfide, and acrylic-based polymers.

Vinyl flooring, sealants, adhesives, car care products, automotive trim, food conveyor belts, food wrapping material, and artificial leather. 

Low concentrations have been detected in baby equipment and children's toys as by-products and impurities, not intentionally added to those products.