Prof. Pecht Delivers Keynote at PHM Conference 2018 in Japan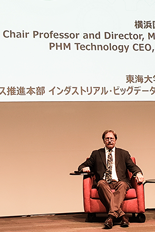 Professor Pecht gave a keynote presentation about global trends and strategies of prognostics and health management (PHM) at the PHM Conference 2018 in Tokyo Japan. This year's event was hosted by ISID and Microsoft.
The conference included experts from various fields in PHM who discussed the latest developments in PHM, industrial big data, PHM design, and a panel discussion about PHM data,collaboration, planning and strategies. Other speakers included Chris Stecki, Prof. Yuuki Yu, Yokohoma National University, and Prof. Makoto Imamura, Tokai University. Prof. Pecht also provided technical advisory workshops for several of the attending companies, which included Canon, Daikin, Mitsubishi Electric, SHI International Corp., and many others.
More information about this event, and future events, can be found
here
.
Published June 5, 2018