Reliability advisor Peter de Place Rimmen visits CALCE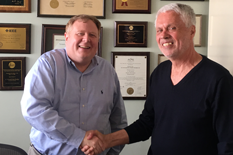 Peter de Place Rimmen, Reliability advisor, Danfoss Power Electronics, visited CALCE students and research staff to present Introduction to the Modern Reliability Based on Physics and Statistics in which he discussed the importance of reliability, design for reliability and degradation, and reliability budget based on Weibull parameters. During his visit, he met with CALCE research staff and professors and toured CALCE labs.
Peter de Place Rimmen is a reliability advisor at Danfoss Drives with a background in electronic design and manufacturing. He is skilled in wind energy, Design for Six Sigma, failure modes and effects analysis (FMEA), reliability, test, and manufacturing. He received his education from Sønderborg Tekniske Skole, DK.
Published May 11, 2019