CALCE, LUMS collaborate on mobile phone battery research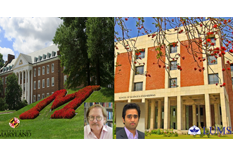 The Center for Advanced Life Cycle Engineering (CALCE) and the Department of Electrical Engineering (EE), Syed Babar Ali School of Science and Engineering (SBASSE), at Lahore University of Management Sciences (LUMS) have recently started a research collaboration on the battery discharge profiles of in-service mobile phones. This partnership will support the research of Prof. Hassan Abbas Khan and his team at LUMS.
The performance of lithium-based batteries in mobile phones is highly dependent on their usage profiles, among other factors such as aging, operating temperature, and internal defects. Since many applications and processes draw power from phone batteries in varied patterns, the usage patterns affect the life and performance of phones. This study will collect and evaluate battery discharge profiles under active phone operation to estimate the effects on remaining charge and the cycle life of phone batteries. The focus will start with the discharge profiles of Android phones to estimate the aging process by using application program interface (API) software and an Android package (APK).
SBASSE is the first private research-focused school of science and engineering in Pakistan and stands out as one of the region's top schools. Much like CALCE, SBASSE practices a no-boundaries philosophy, which encourages cross-disciplinary collaborations. The school's impressive scholars and its global collaborations make it a great partner in furthering battery research.
CALCE is always open to exploring partnerships around the world and welcomes the opportunity for research collaboration. For more information, interested institutions can contact Prof. Michael Pecht.
Published May 23, 2019