Agency for Defense Development in South Korea visits CALCE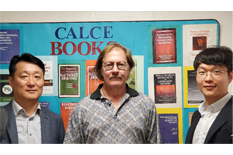 On Thursday, May 23, CALCE welcomed two visitors from the Agency for Defense Development in South Korea, Dr. Joon Ki Min, Team Leader and Principal Investigator, and Mr. Tae Yeob Kang, Senior Researcher. The visitors attended CALCE's daily morning research meeting, during which a presentation was made by one of the graduate students, Varun Khemani, describing CALCE's successful efforts to develop prognostic algorithms for key failure modes on a legacy helicopter.
Following the research meeting, the visitors met with members of CALCE's PHM team, Dr. Michael H. Azarian, Varun Khemani, and Nam Kyoung Lee, and Mr. Kang presented and overview of the Agency for Defense Development, which is the principal national laboratory in South Korea that is dedicated to defense. During this time, the visitors and CALCE PHM team discussed the reliability testing that is being performed in the South Korean laboratory.
The two groups discussed opportunities for collaboration on PHM publications and research. Subsequently, Dr. Min and Mr. Kang were given a tour of CALCE laboratories and met with the CALCE Director, Prof. Michael Pecht.
If you're interested in meeting with the CALCE team and discussing the application of PHM in electrical, mechanical, and electromechanical systems, please contact Dr. Michael Azarian or Prof. Michael Pecht.
Published May 27, 2019