CALCE, UMD Host 3D-PEIM 2018 Event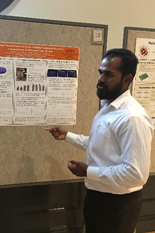 The second International Symposium on 3D Power Electronics Integration and Manufacturing (3D-PEIM) was hosted by the General Chair, Prof. Patrick McCluskey, at the University of Maryland at College Park from June 25-27, 2018.
The event is a platform for showcasing work by world class experts in power modules and packaging focusing on cutting edge additive manufacturing technology. A large number of academicians and industry members attended the conference, who brought with them a plethora of innovative ideas and solutions addressing mechanical, materials, reliability and manufacturability issues in the emerging field of 3D printed power modules.
3D-PEIM included a total of 26 invited lectures and several keynote addresses followed by tutorial sessions, industry exhibits, interactive student presentations and lab tours. Speakers included Prof. Guo-Quan Lu, Virginia Tech, Dr. Lauren Boteler, Army Research Laboratory, Dr. Eckhard Wolfgang, European Center for Power Electronics, and several of CALCE's own professors and research scientists, including Prof. Abhijit Dasgupta, Dr. Michael Azarian, Prof. Michael Ohadi, Dr. Michael Osterman, and Prof. Patrick McCluskey.
The student interactive sessions saw a large participation from students across the globe. Several of CALCE students presented their research—showing off the research and work done at CALCE.
The event was concluded with lab tour of some of the facilities at the University of Maryland. CALCE labs in particular garnered much interest for future collaboration.
This conference brought together many industry experts, scholars and students to improve the academic community as well as the industry in developing new technologies. For more information visit
http://www.3d-peim.org/
Published June 1, 2018