Symposium on counterfeit avoidance brings stakeholders together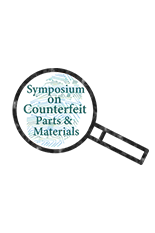 College Park, Md. - More than 130 individuals attended the 2019 CALCE/SMTA Symposium on Counterfeit Parts and Materials from June 25-27 at the College Park Marriott Hotel in College Park, MD. The event attracted a large cross section of government, industry, business, and academia.
During the first two days, 25 presentations organized into eight sessions examined all aspects of electronic parts supply chain including current counterfeited parts and material statistics, standards, regulations, detection, prosecution of counterfeiters, and more. One presentation featured a case study of the process of prosecution of counterfeiters in the case of U.S. v. Rogelio Vasquez (2018) which was presented by Brian Resler, Assistant Deputy Chief for Litigation, Computer Crime, and Intellectual property Section of the United States Department of Justice. Marie Williams from Customs and Border Protection (CBP) Office of Trade Business Transformation and Innovation Division presented some of the proof of concepts that CBP has completed and ongoing projects. She explained the role of government in block chain and identification of promising technologies for CBP's business needs. Other presentations covered a variety of topics such as tracking and tracing technologies, block chain technology, cyber security, and various international standards to attenuate the problem of counterfeit products.
Conference Chair, Dr. Diganta Das, spoke about the effect that counterfeit and rewrapped Lithium-ion batteries have on the market and supply chain, and he also presented the workshop 'Use of Component Documentation and Supply Chain for Counterfeit Avoidance,' which discussed how to understand and use process change notices for making counterfeit detection more efficient. A second workshop was presented by Cameron Shearon, Raytheon IDS, and Michael Ford, Aegis, titled 'Utilizing IPC-1782—Component Traceability—to Reduce Risk Associated with Ingress of Counterfeit Components.' This course explained the implementation of an exact traceability program, based on IPC-1782, to lower the risk and cost of consequences associated with the ingress of counterfeit components.
Access to the conference proceedings can be requested via the CALCE website. Next year the symposium will return to College Park, MD, on June 23-25, 2020.
For more information visit: https://www.smta.org/counterfeit/ or contact Dr. Diganta Das.
CALCE, the largest electronic products and systems research center focused on electronics reliability, is dedicated to providing a knowledge and resource base to support the development of competitive electronic components, products and systems.
Published June 30, 2019