Proceedings for the Symposium on Counterfeit Parts and Materials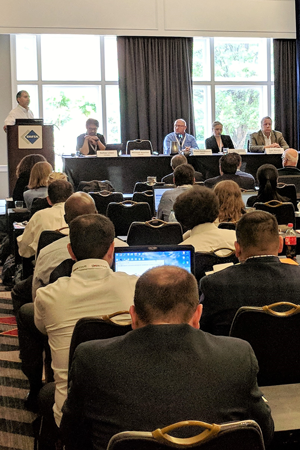 This year's CALCE/SMTA Symposium on Counterfeit Parts and Materials attracted a large cross section of government, industry, business, and academia for two days of informative presentations and exchanges. The event included 27 talks throughout seven sessions with a panel discussion session about the future direction of standards.
For three days, the symposium covered all aspects of electronic parts supply chain with focus on the available and proposed solutions for each sector of the industry. Session topics covered current counterfeited parts and material statistics, standards, detection, government involvement, and more. One highlight of this year's event is report on increasing number of counterfeit incidences beyond electronics. The speakers and audience also noted the impacts of shortage of electronic components on the counterfeit incidences. Three CALCE research scientists presented talks and workshops at this year's symposium.
Dr. Diganta Das spoke about the status of fight against counterfeiting as a closing talk and identified the promising technological developments. He also presented the workshop 'Use of Component Documentation and Supply Chain for Counterfeit Avoidance,' Dr. Laura Xing's presentation 'Inspection of Counterfeit Lithium-ion Batteries in Electronic Nicotine Delivery Systems' focused on counterfeits in energy storage devices and difficulties in identifying them. Dr. Michael Azarian joined the panel discussion 'How is AS6171 Being Flowed Down? Challenges with AS671 Accreditation--Can it Handle Obsolete Parts?' along with leading the workshop 'Implementation Process of SAE 6171.'
The event took place at the University of Maryland, College Park, and welcomed more than 150 conference and expo attendees and 40 workshop attendees from across the globe, including Canada, Germany, Japan, Uganda, and the United Kingdom.
Many companies displayed exhibits—offering demonstrations and product insights. Exhibitors included Creative Electron, Freedom Sales, Nokomis, Nikon Metrology, SMT Corporation, Micross and more. In addition, Northrop Grumman demonstrated their Supply Chain Hardware Integrity for Electronics Defense (SHIELD) technology and COVISUS offered a look at their tagless traceability technology.
Proceedings for this event can be found
here
.
Next year's event
will be held June 25-27 with more information to follow.
Published July 3, 2018