Prof. Pecht and Dr. Laura Xing's new article available free online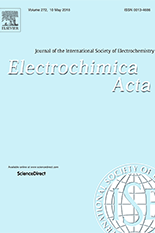 Professor Pecht and Dr. Laura Xing, CALCE research staff, have co-authored a new article "A parameter estimation method for a simplified electrochemical model for Li-ion batteries," alongside Junfu Li, and Chao Lyu, and Lixing Wang, Harbin Institute of Technology, which is
now available online
for free until June 14 with Elsevier Press. No sign up, registration, or fees are required to access this article.
Abstract: Traditional electrochemical algorithms are too complex for use in real-time battery management systems (BMSs). Determination of parameters and implementation of algorithms are the key challenges for electrochemical models for Li-ion batteries. This paper develops a simplified electrochemical model that incorporates open-circuit voltage, liquid-phase diffusion, reaction polarization, and ohmic polarization, and uses a fast operating test to identify all the parameters to solve these challenges. The model is then implemented and compared against experimental measurements. Validations of parameter estimation and charge/discharge behaviors indicate that the developed parameter estimation method for the electrochemical model is effective. With this model and parameter estimation technique, electrochemical model-based state of charge (SOC) estimation can be realized online and can provide accurate results.
Please follow
this link
for the full article as made available, for free, by the publisher.
Published April 30, 2018