Dr. Gabriel Mouchawar, VP of Research for Abbott Medical, Visits CALCE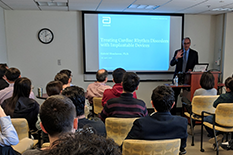 Current implantable devices—defibrillators, pacemakers, and their leads, which conduct pulses from the medical device to the heart—require a life of 5 to 18 years of continuous power and function. Thus, it is important that all devices are free of possible defect and can withstand years of rigorous conditions, including various shock, vibration, delamination, and corrosion threats.
Dr. Mouchawar, VP of Research for Abbott Medical, visited CALCE and gave a presentation highlighting the importance of reliability engineering for medical devices, especially those required for sustaining life. "Reliability engineering is something we could really use more of," he said, "to ensure product quality and patient safety".
Medical devices must have reliable solder-joints to prevent breach of hermetic seals, which must remain intact to ensure the body does not attack the foreign device. Lithium-anode based batteries must be able to power an implantable as long as possible, and high-voltage capacitors must be able to store 35-40 joules for proper defibrillation.
With so many possible mechanisms of failure, it is paramount that each device is engineered for reliability. Defects and underqualified products can lead to death in the patients who require them.
CALCE is working closely with the medical industry and collaborating with experts to help produce newer, safer standards and better reliability for implantable and wearable devices as well as medical instruments. One current effort involves understanding and managing electrostatic discharge events that can cause these devices to malfunction and lead to patient injury, disability and death.
"Collaboration between industry and academia will lead to the next level of reliability improvements," Dr. Mouchawar said, "the first pacemaker was created in 1958 and lasted two hours."
The evolution of these implantable medical devices over the last 60 years has certainly increased their lifespan and reliability, but further improvements are needed to provide the safest, most durable products for patient use.
Dr. Mouchawar's visit and lecture was prompted by a previous visit and lectures that Professor Pecht gave to Abbott Medical and this visit will provide opportunity for future collaboration.
Dr. Mouchawar received his BS in Computer and Electrical Engineering from Northeastern University and his MS and Ph.D. in Electrical Engineering with a biomedical emphasis from Purdue. He has spent more than 25 years involved in the development of implantable medical devices, including pacemakers, defibrillators, and neurostimulators. He currently heads the R&D of cardiac rhythm management of implantable devices at Abbott Medical.
Published April 27, 2018