Dr. Cher Ming Tan presents reliability lecture to CALCE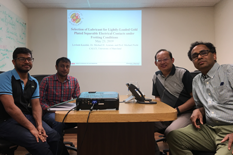 Professor Cher Ming Tan, Ph.D., Chang-Gung University, Taiwan, recently visited CALCE to discuss physics of failure (PoF) based reliability analysis of electronics using finite element method (FEM). During his presentation, Dr. Tan talked about how he plans to convert reliability engineering into reliability science. After deriving the physics of failure equations of various electronics, he uses FEM, which helps to extract key insights on failure mechanisms.
Following his presentation at the research review meeting, Lovlesh Kaushik presented Dr. Tan with his current thesis work on the selection of lubricants for electrical contacts exposed to fretting conditions as a critique for his thesis defense. During the session, he was able to share his ideas on some possible factors that might be playing a role in the degradation of the lubricated contacts and on how to proceed with modeling and simulating the behavior of lubricated contacts under fretting.
Students from the CALCE Battery Group, including Saurabh Saxena, Lingxi Kong, Weiping Diao and Neda Shafiei, presented their research on accelerated battery life testing, lithium dendrite growth mechanism, and battery safety. Prof. Tan discussed his ideas on battery degradation mechanisms classification using non-destructive statistical analysis methods and suggested new test methods to understand the effects of current density on the lithium dendrite growth.
Prof. Tan also discussed development effort for IEEE standards with Dr. Das and joined the working groups for IEEE 1413.1 and 1624 review. The two discussed multilateral collaboration opportunities such as exchange programs and internships.
If you are interested in visiting CALCE and presenting your research to our students and staff, please contact Prof. Michael Pecht.
Published June 3, 2019