Poor Bonding of Pad/Via Interface
Defect Description
Bonding of the Pad/ Via interface is poor which can leads to crack initiation or delamination upon the exposure to environmental stresses.
Defect Formation Process(s)
Possible causes to this defect include:
i. Under-ablation
Resins are not sufficiently removed due to incorrect energy levels or poor trepanning techniques, creating a non-conductive barrier between the target pad and subsequent metallization [1]
ii. Contamination
Insufficient desmear causing the by-product form ablation process to trap
at the interface between pad/via plating boundaries, results in crack initiation at the interfaces [1-2]
iii. Insufficient surface preparation
The copper plating bath process involves various chemistries that prepare the surfaces for a strong chemical bond. For example, electroless copper on the target pad creates a strong bond to copper foil interface for a strong chemical bond, without such, foundation for the base of a microvia is not established [1].
List of Tests to Precipitate this Defect

Failure Acceleration

Likihood to Precipitate Defect (condition)

Failure Mechanism(s)

Thermal Shock

• Thermal shock accelerates separation of copper-hole wall interface due to Coefficient of Thermal Expansion(CTE) mismatch

✔

Thermal Fatigue/

Thermal Mechanical Overstress

Random Vibration (RS/ED)

• Random vibration can deteriorate of adhesion strength of the poorly bonded interface due to overstress or fatigue

✔/✇
(Defect orientation is sensitive to the vibration axes)

Mechanical Fatigue

Mechanical Overstress

Combined Environment

• Combination of Thermal Shock and Random Vibration

✔

Combination of Thermal Shock and Random Vibration

Bend Test

• Bending can separate poorly bonded interface due to mechanical overstress

✇

(Defect at a location with significant strain due to bending)

Mechanical Overstress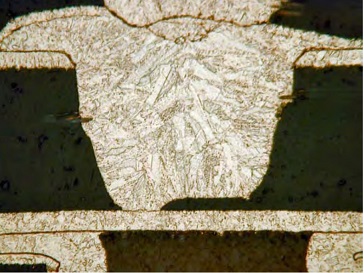 References
[1] Ghaffarian R. "Reliability of PWB Microvias for High Density Package Assembly", NASA Electronic Parts and Packaging Program (NEPP), 2006.
[2] L. Ji and Z. Yang, "Analysis of Cracking Blind Vias of PCB for Mobile Phones," International Conference on Electronic Packaging Technology & High Density Packaging, Shanghai, China, 2008
Top