MTU Prof. Lucia Gauchia Visits CALCE, Delivers Battery Lecture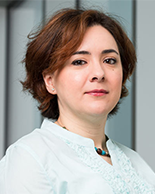 Lucia Gauchia, Assistant Professor of Energy Storage Systems at Michigan Technilogical University, visited CALCE to present her research Multi-life Opportunities of electric vehicle Batteries for Grid Applications. 
Gauchia has been an assistant professor with the Electrical and Computer Engineering (ECE) and Mechanical Engineering-Engineering Mechanics (ME-EM) Departments at Michigan Tech University since 2013. Her research interests include the study of multiple life aging for batteries, for which she received an NSF CAREER Award in 2017, battery energy storage testing and modeling, and non-traditional energy storage, such as electrochemical, hydraulic, mechanical and for wave energy applications.
She is currently an associate editor for IEEE Transactions on Transportation Applications Journal, a member of the IEEE Society and IEEE Women in Engineering and Society of Hispanic Professional Engineers.
Published April 4, 2018